So the sequel to Shogun Total War is out, and boy has it shut the skeptics up. I've played every single Total War, and I'd have to say this is probably the best out of all of them, a gigantic leap from the rock bottom trash that was Empire & Napolean Total War.
One of the big problems with pretty much all other Total Wars is the lack of multiplayer support, sure you can have battles with your friends, but that is only half of what makes Total War great. The Civilization-esque campaign mode where you take turns in controlling your empire's economy, diplomacy defense and expansion is the other half I'm talking about, and now, with cooperative campaign mode, you can join up with a friend and either battle it out or help each other in their goal to become Shogun of Feudal Japan.
Coop Campaign is not the only feature they've added, there's also avatar conquest mode, where you create your own general, customizing his armor and weapons, and move your armies across into different zones of Japan, conquering cities and gaining bonus units and such. You can also participate in 'campaign drop-ins' where you take control of an AI opponent fighting against a player in single player. I think this is a great addition, because multiplayer has lacked progression for a long time in the Total War genre.
Enough about multiplayer you say, how's the single player? To put it simply, it's better than it's ever been. Creative Assembly have fine-tuned the campaign map to near perfection, the gorgeous 3D terrain over the 2D inked fog of war is absolutely stunning. Every clan has a unique starting cinematic with different stories, that really lay out what the current situation of whichever clan you just picked, it's a lot better than just plonking you on a map and aimlessly conquering stuff, in fact, the advisors will give you quests with bonuses to conquer a city or wipe out a retainer rebel army, guiding you as you go along.
The atmosphere is overwhelming, the RPG elements of the game are excellent and allow you to customize specialists, generals and agents to do specific jobs, for example you can have a general on the frontline that is feared by all enemies that lowers enemy troop's morale and provides an offense bonus to yours, and you can have a general at home that is peaceful and will help your empire prosper in trading, finances, building, etc.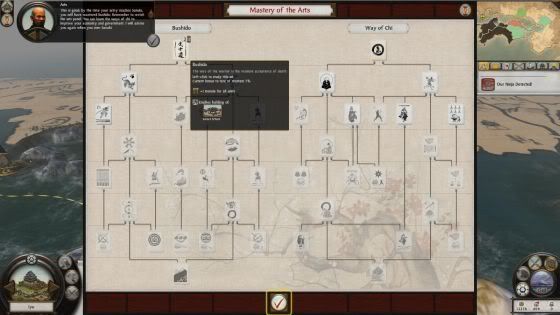 Although I haven't played much of them, Sea battles are much more refined than the Napolean and Empire counterparts, it's less about having to specifically direct each ship to go in a certain direction in order to fire and more about getting the right positioning and letting the AI do all the tedious stuff. From the last few Sea battles I found the fire-bomb throwers to be a bit ridiculous, though, they can make a ship route in only a few volleys.
The only gripes I have with the game would have to be the less than exemplary AI, along with other Total War games it does lack a bit of common sense, but I think it's a lot better than previous games, and actually quite a bit harder, and I like that.
If you're a fan of strategy games, get this game now!